---
Prague 2014-08-10
7 races took place on the 7th racing day in Prague – Velka Chuchle. Small fields of horses but still interesting performances of the participants. 2 wins for offspring of Love You (F).
1st start = 1st win – that's the statistic for 3yo Megan Kemp (S), in Sweden bred filly of Make it Happen (US) from Dutch Joy (US) by Donerail (US) from Stutteri Kempi, trained and driven by Mykola Volf. She won easily by 5 lengths in 1:20.7 on 1670m in front of her training colleague, Czech bred 2yo Perepelka (King Conch (S) – Pettite Prive (CZE) (Do The Trot (US)).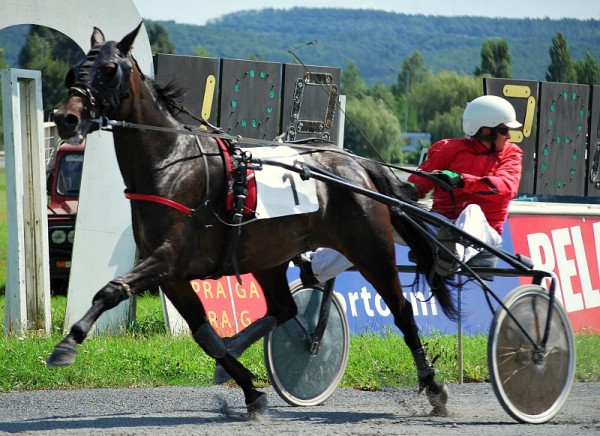 Megan Kemp (S)
Also for Chuck Norris (D) (Love You (F) – C'est La Vie (D) (Beuvetier d'Aunou (US)) was it a first win in his career. With a nice finish he took over Best Winner (F) (Coktail Jet (F) – Rifa Rainbow (F) (Kaisy Dream (F)) in 1:20.2 on 2180m. First win of the day for owner, trainer and driver Zdenek Skobis and his Stable Viktoria.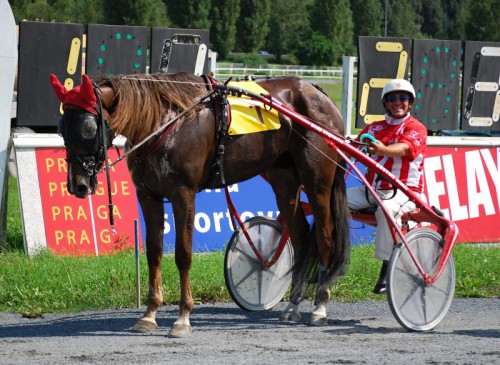 Chuck Norris (D)
Audience saw an interesting finish in next race on 2180m where the biggest favourite Unzen (F) (Hermes de Pericard (F) – Miyakejima (F) (Renoso (F)) galloped before the finish line so if was another easy win for Mykola Volf and his Czech bred Regent (Ride the Bullit (S) – Regenboog (D) (Super Way (US)) in 1:18.1 in front of newly from Ukraine imported Paragraf (RU) (Frisky Flirt (US) – Pelena (RU) (Meridian (SU)).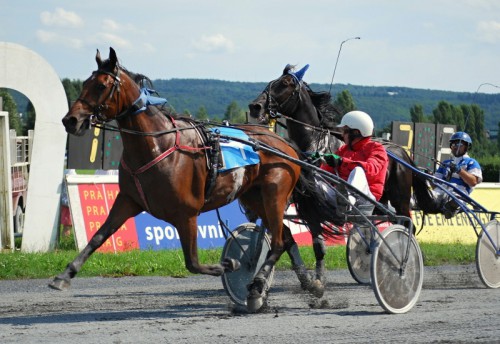 Regent
Fastest race of the day was finally a race for horses up to 600 000 CZK life earnings. Sir Viking (A) (Sir Isaac (US) – Otilda Staro (S) (Union Shark (S)) lost his dominance only in the finish line to another Love You's offspring Bob Harley (NL) with his owner, trainer and driver Zdenek Skobis in 1:15.2.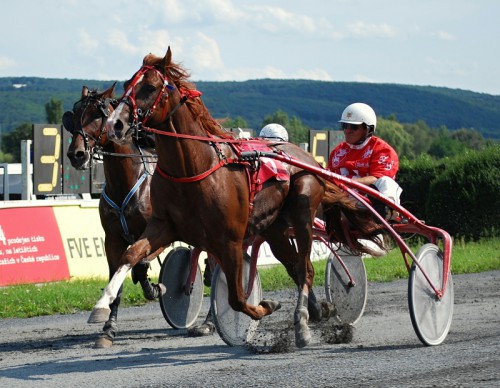 Bob Harley (NL)
Top race of the day on 2715m with Czech elite was a delicacy for a surprising winner, the richest Czech-bred Ocean Al (Sugar Candor (DK) – Otherwisemeadow (NL) (Keller Lobell US)), trained by Alle Loman, driven by amateur Alena Cemusova, in 1:19.2 in front of the second favourite Vade Mecum (F) (Mambo King (F) – La Belle Victoire (F) (Cedre du Vivier (F)). Actually probably the best French Trotter in the Czech Republic and the biggest favourite of the race United des Obeaux (F) (Love You (F) – Lady des Racques (F) (Extreme Dream (F)) paid for a bad tactics and finished 4th.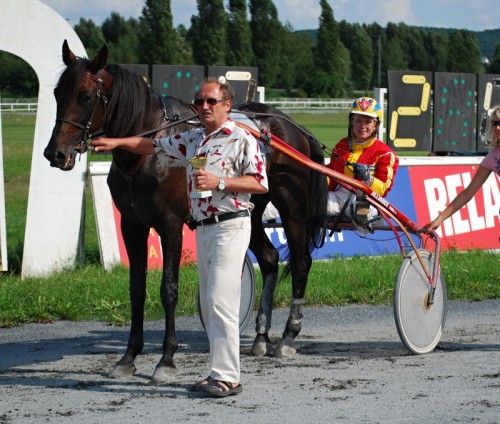 Ocean Al
The only "French" victory was seen in the next race when Ben Hurry (F) (Rollinge d'Heripre (F) – Pisa (F) (Kaisy Dream (F)), born in Netherland, with his owner, trainer and driver Alle Loman, didn't get chance the biggest favourite B Vijfendertig (NL) (Yzeren Hein (NL) – Laetitianora (NL) (Yankee Tornado (US)) and won by 1.5 length in 1:17.8 on 1670m.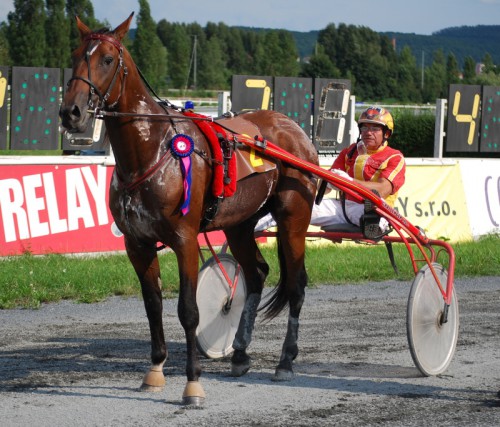 Ben Hurry (F)
Trainer and driver Michal Kalcik got his only win of the day in the last handicap race at the end of the day with German-bred Ain'tshes Diamond (D) (Yankee Matador (US) – Ain't she nice (D) (Crown Sweep (US)) in 1:20.0 tightly before Russian-imported No-Shpa (Power to Charm (US) – Norma (RU) (Oyster Bar (SU)) of trainer Mykola Volf.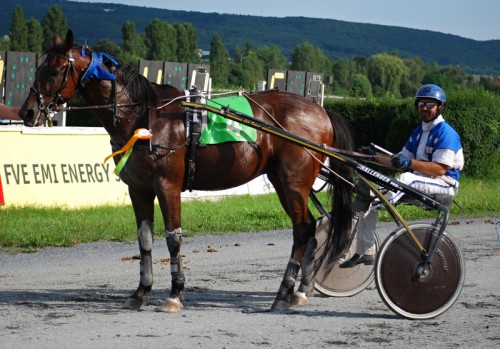 Ain´tshes Diamond (D)