---
Prague 2014-08-24

Another racing day in Prague again showed smaller fields of horses in 8 races.
First race for horses beginning their carrier on 1670m was a very easy held win for 3yo Czech-bred V.I.P. Alet (Västerbo Today (S) – Västerbo Pi (S) (Pythagoras (S)) trained by Jindřich Klaubenschalk in 1:19,9. Second finished 2yo Italian Tedo OK (I) in front of another Czech-breeding produce Perepelka (King Conch (S) – Pettite Privé (Do The Trot (S)), both trained by Mykola Volf.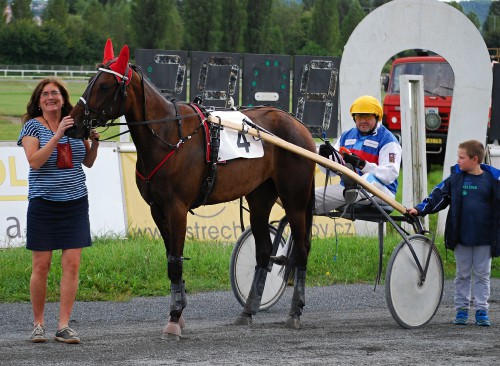 V.I.P. Alet
Another race, also for horses with little life earnings on 1670m was also an surprisingly easy win for Jos (D) (Love You (F) – Supergirl As (D) (Crowning Point (US)) in 1:19,6. This was the premier win for the most expensive horse imported to Czech Republic. Mykola Volfs' another Czech produce Dorothy King (King Conch (S) – Defi du Gazeau (Defiant One (US)) finished second, third was a fresh import from Sweden G.G.'s Sweet Dream (Was it a Dream (US) – Dream of Lousiana (S) (Dreamaster (US)) now trained by Jindrich Klaubenschalk.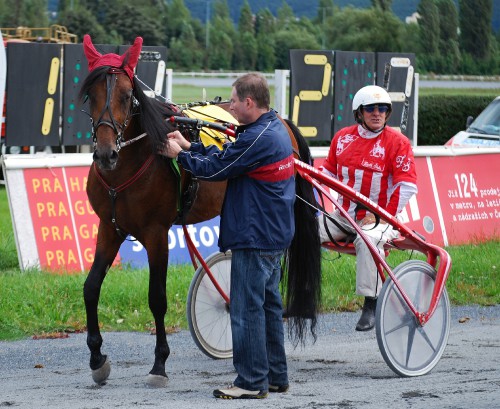 Jos (D)
Next race for young horses was also a premier and easy win for from Poland imported French Trotter Bahia Jiel (F) (Rombaldi (F) – Maya Jiel (F) (Big Prestige (US)) with Vjaceslav Samsurin in 1:20,6. The mare had no problem to defeat Swedish Megan Kemp (Make it Happen (US) – Dutch Joy (US) (Donerail US)), which won her first race 2 weeks ago. 2yo Italian Tiarama Bi finished third, 17 lenghts behind the winner.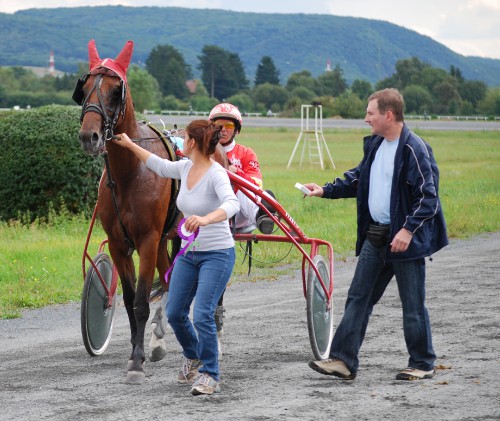 Bahia Jiel (F)
Interesting finish had the longest race of the day on 2715m where the happier was finally by Vjaceslav Samsurin trained and driven Gromoboj (UA) (Motiv (RU) – Gagarka (UA)(Germit (UA)), the Ukrainian Derby-Winner of 2013. Second ended now already 9yo Agita (A) (Castleton Magic (US) – Ann Lis (Vanity Lobell (US)), which is still improving her performance. Winner's time – 1:19,4.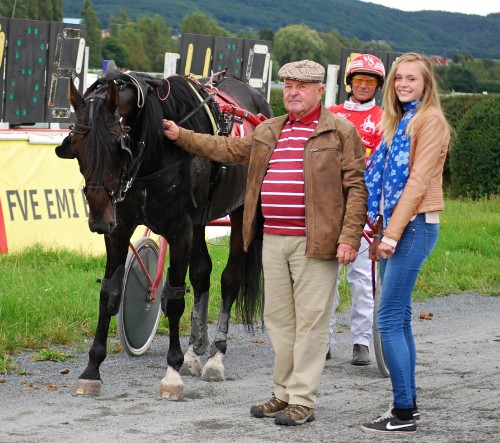 Gromoboj (UA)
The most interesting race was the main race of the day, where everyone was waiting for a battle of Charming Oreau (NL) (Eilean Donon (US) – Oreau Hendrika (NL) (Buvetier d'Aunou (US)), Czech-Derby 2013 winner, and Bob Harley (NL) (Love You (F) – Miss Harley (S) (Atom Knight (S)), Czech-Derby 2012 winner. In though battle finally the first mentioned mare with Alle Loman was the luckier in best time of the day 1:15,7 on 2180m.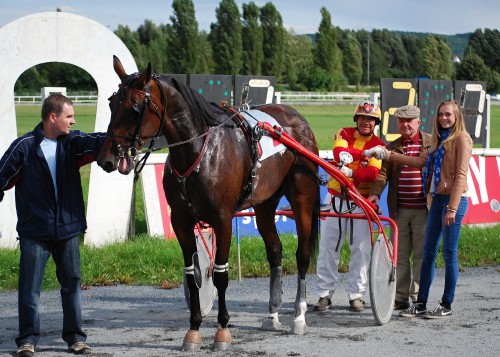 Charming Oreau (NL)
Another win for Czech breeding and training centre Trot Centre Alet was made in next race by Mikeila Alet (Zoning America (I) – Miss Osteo (New York Giant (US)) in 1:19,6 on 1670m driven by trainer Jindrich Klaubenschalk in front of Karel CZ (A) and Buffalo Joy (D).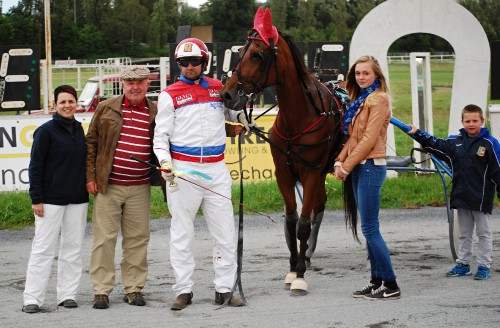 Mikeila Alet

Second win in a short time for another Love You offspring Chuck Norris (D) was seen in a race on 2180m. Even with few gallop jumps he was able to win easily in 1 1/2 length with his trainer Zdenek Skobis, second for him that day after Jos.This was an easy win in front of two Russian – imported mares Gliptika and Rapida in 1:19,8.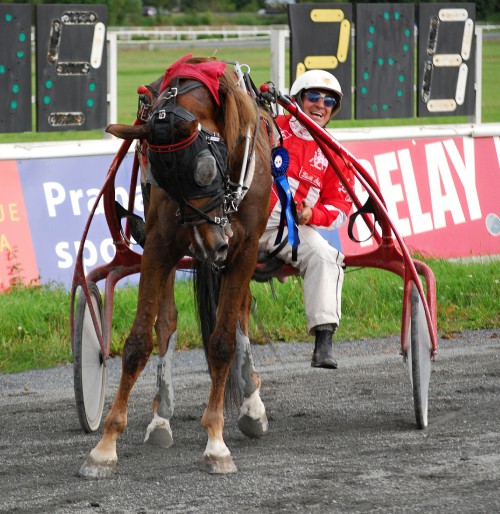 Chuck Norris (D)
Last race was an only win of the day for trainer and driver Mykola Volf with his Russian mare No-Shpa (RU) (Power to Charm (US) – Norma (RU) (Oyster Bar (US)) in 1:18,9 for 1670m in front of two Czech bred horses Viking Cub (Chips and Fish (US) – Vanessa Tilly (S) (Vip Tilly (F)) and Apollo (Up di Poggio (I) – Ann Lis (Vanity Lobell (US)).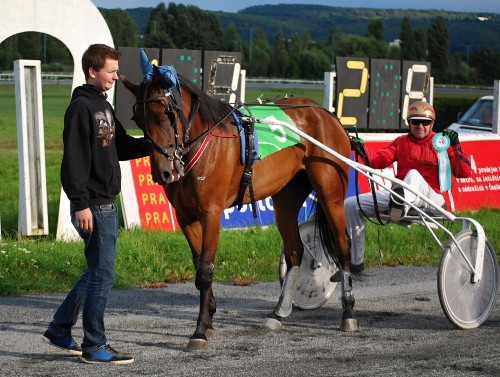 No-Shpa (RU)